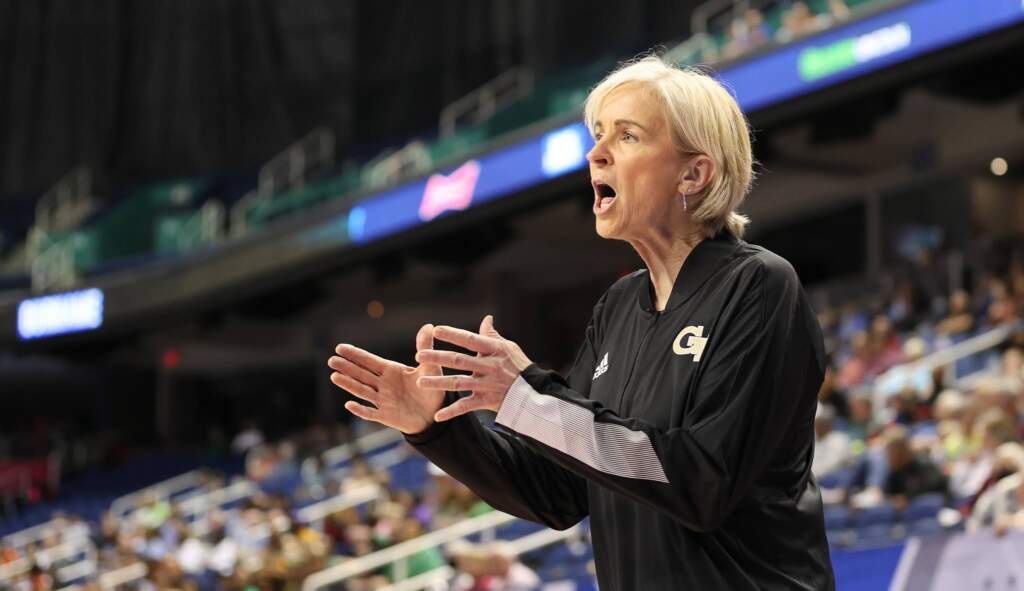 The Sports Inquirer attended the presser of Georgia Tech women's basketball head coach Nell Fortner following her team's selection to the NCAA Tournament March 13. Topics included the Yellow Jackets being in the NCAAs for the second-consecutive year, how the team is rebounding from its loss to Notre Dame in the ACC Tournament and preparing to face Kansas in the first round.
The Sports Inquirer presents Fighting Peaches: Georgia Tech volleyball Michelle Collier pre-Notre Dame interview (9.28.22)
–
The Sports Inquirer
The Sports Inquirer spoke with Georgia Tech volleyball head coach Michelle Collier for an exclusive interview September 27. Topics included Collier earning her 200th career win in the Yellow Jackets' 3-0 home win over Wake Forest September 23, reflections on her beginnings as a head coach, what being a head coach has meant to her on and off the court, the team's development serving and receiving serves, visiting Notre Dame September 30 and nationally-ranked Louisville October 2. We also discussed the contest against the Cardinals being on ESPN putting Georgia Tech and women's sports on the national stage. — This episode is sponsored by · Anchor: The easiest way to make a podcast.
https://anchor.fm/app
Support this podcast:
https://anchor.fm/marcel-pourtout/support